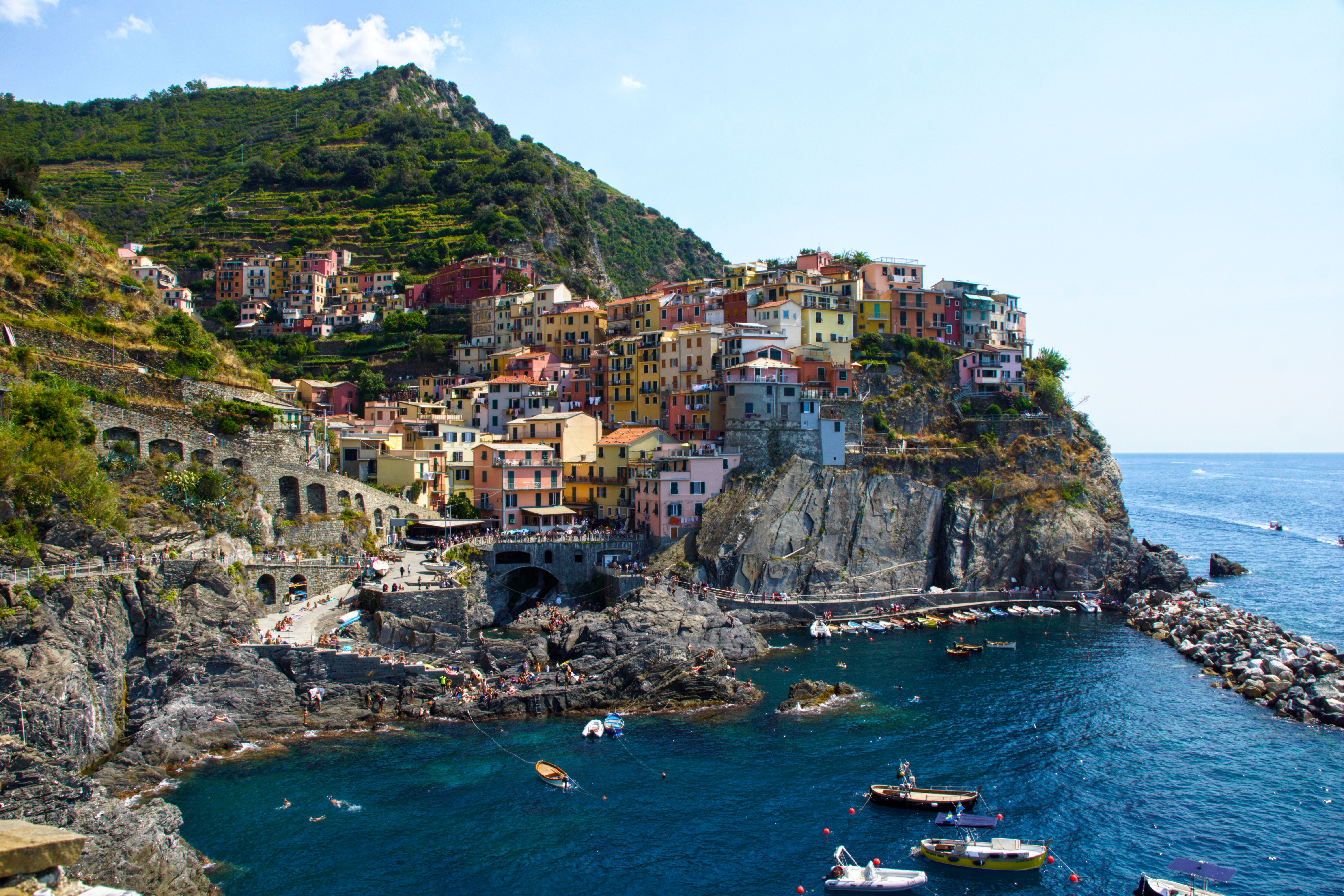 Like the sound of lazing by one of Italy's iconic lakes or beaches, while soaking up the sunshine and indulging in fresh local cuisine?
Then you're in luck.
If you have comprehensive car insurance with Prima, you're covered to drive abroad anywhere in the EU for up to 90 days. So no need to splash out on expensive airfares to enjoy Italy. Travel in the comfort of your own car and explore the country's hidden gems that can't always be reached by public transport.
Not sure where to stop off? No problem. At Prima, we have teams in the UK and Italy. And so we've asked our Italian colleagues to reveal their six favourite spots to visit in their home country. Read on to check them out.
6 places you should visit in Italy
Up in the north west coast, you'll find Cinque Terre, a string of five vibrant fishing villages dotted along the Italian Riviera.
With its peeling pastel houses, romantic harbours, ancient architecture and dramatic coastal scenery, nowhere could feel more authentically Italian. In fact, this place has earned the status of a UNESCO World Heritage site.
One thing we've learnt from our Italian colleagues is that you're either a "sea Italian" or a "mountain Italian". And the Dolomites is where the mountain Italians go for their summer holidays.
A mountain range in northeastern Italy, the Dolomites is a paradise for nature lovers and outdoor enthusiasts. Discover alpine lakes, charming villages and fantastic hiking trails.
The heel of Italy's boot, this region in southern Italy boasts over 800 kilometres of coastline. But it offers a lot more than just beautiful beaches.
Expect mediaeval hilltop towns, endless olive groves and delicious cuisine. Stop off in Alberobello and wander through a maze of 1,400 trulli, the region's unique cone-roofed stone houses.
Described by UNESCO as an outstanding example of a Mediterranean landscape, the Amalfi Coast needs little introduction.
This 50-kilometre stretch of Italian coastline is famed for its charming towns, dramatic cliffs and crystal-clear waters. Drive along the winding coastal roads to explore towns like Positano, Amalfi and Ravello.
Lake Como, Lake Garda, Lake Maggiore, Lake Orta – you take your pick.
Situated in the north of Italy, the Italian Lakes have proved a popular holiday destination since Roman times.
Each lake has its own particular character. So whether you want peace and quiet or a water-sports adventure, there's something for everyone.
Often called the Green Heart of Italy, Umbria offers serene and quintessential Italian countryside.
This hidden gem is less well-known and cheaper to visit than neighbouring Tuscany. So you can enjoy mediaeval towns, vineyards and dense forests, without crowds of tourists.
Things to know before driving in Italy
You'll need to take a few things with you
You don't need a Green Card to drive abroad in Europe anymore. But we always recommend you carry your:
Certificate of motor insurance
Driving licence
Passport
Vehicle log book (V5C)
In Italy, it's also mandatory to carry a warning triangle in your car, in case you break down or have an accident. Plus, you'll need to display a UK sticker on your car at all times.
They drive on the other side of the road
Seems like a pretty obvious one, but still an important point to remember. In Italy (like in most of Europe), you drive on the right-hand side of the road. So take extra care when changing lanes and at intersections.
They have different speed limits
The Italians might be known for their love of fast cars, being the home of Lamborghini and Ferrari. But that doesn't mean you won't be issued a hefty fine if you're caught speeding. Familiarise yourself with the standard speed limits – and stick to them. Unless signposted otherwise, it's:
130 kmph (80mph) on motorways
110 kmph (68 mph) on major non-urban roads
90 kmph (56 mph) on other roads outside urban areas
50 kmph (31 mph) in built-up areas or towns
You can't drive in some zones
Many cities in Italy have Zona a Traffico Limitato (ZLT Zones). These are restricted traffic zones, where only registered vehicles are allowed during certain times of day. Avoid these zones unless you're sure you can drive through them. Otherwise, you could be hit with a fine of around €100.
They have colour-coded parking
Parking fines abroad will follow you back home to the UK. So look out for designated parking areas and follow Italy's colour-coded system. Blue means paid parking, white means free and yellow means residents only.
They have a lower drink-drive limit
The legal blood alcohol limit in Italy is 0.05%, which is lower than in the UK. So if you're planning a visit to one of the country's many delicious vineyards, organise a driver or book a taxi.
They have a lot of toll roads
In total, Italy has 35 motorways that use tolls. These are roads that you need to pay to drive on. How much you need to pay varies depending on what region you're in, who runs the toll and what type of car you have. Most accept cash and cards. But it's worth carrying some cash in the car with you, just in case.
Ready to go?
Hopefully you're now excited for an Italian road trip. All that's left to do is check your car is in good condition and plan your route carefully. Have fun.